About gufler.dk
After more than 16 years in the IT business, I started gufler.dk, which has as an overall goal of helping other companies to succeed by effective and innovative use of IT.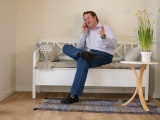 Since I graduated from the university of copenhagen with a degree in computer science and cognitive science in 1990, I have had a variety of jobs within the IT industry – both technical and business focused. It has been a good starting point for me as an independent consultant.
During my time in Microsoft I helped start up and build up Microsoft Consulting Services in Scandinavia, an organization which today counts more than 300 employees. The first couple of years I had a technically very demanding role, being responsible for the largest Microsoft Exchange projects i Scandinavia, and later as part of the leadership team in the Northern Europe organization, I had various roles within sales and business development.
Most recently – before I started gufler.dk – I have helped building a new division for mobile business solutions in Microsoft's development center in Vedbęk. An incubation and growth initiative that was sponsored directly by senior executives in Microsoft, including Steve Ballmer, the CEO of Microsoft.
Key values
We are an independent IT- and consulting company, with experienced ressources on all levels. Our business is based on long and practical, hands-on experience, a drive for innovation, high creativity, strong commitment and focus on quality.
Human values such as honesty, courage, accountability and integrity, optimism, loyalty and tolerance, plays an important role in how do business.
---
© 2013 gufler.dk | Groensvinget 48 | DK-2730 Herlev | tel.: +45.2990.7029 | cvr: 30251822